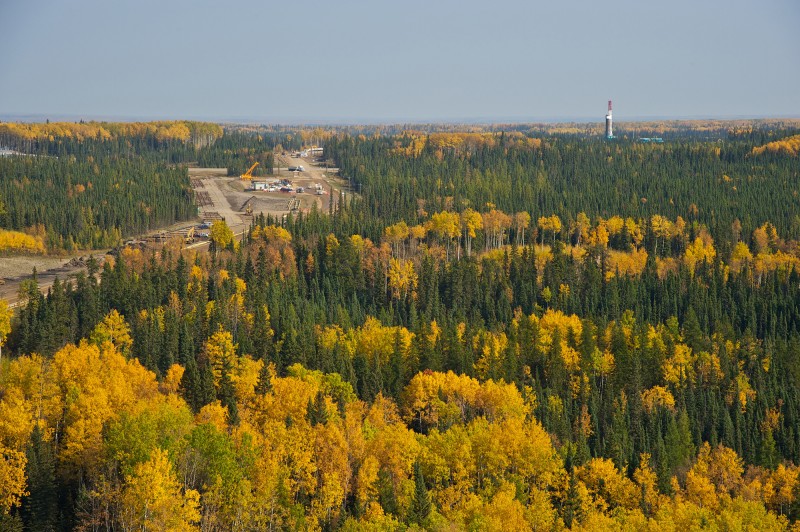 While uncertainties remain, we are committed to taking action. These are not just words.
We have taken significant action that includes completing many projects that reduced the equivalent of more than 1 million metric tons of carbon dioxide emissions each year since we introduced our first Climate Change Action Plan in 2008 (totaling 6.2 million metric tons of CO2 equivalent by the end of 2014, keeping our emissions effectively flat at 26.9 million metric tons). We have had a public climate change position since 2003 and a corporate climate change action plan since 2007. Details of our current Climate Change Action Plan can be found here.

In 2014 we completed numerous projects which improved energy efficiency, recovered product and reduced GHG emissions by 900,000 tonnes CO2 equivalent. Projects included:
Reduced methane venting during well completions
Plunger lift optimization
Optimized compression
Replacement of high bleed controllers
Electrification of central facilities
In order to increase our focus on emission reductions, we set an overall company GHG emission reduction target of 3 to 5% against our business-as-usual forecast for 2015. We will evaluate targets and other options as we consider the best way to drive performance in 2016.

ConocoPhillips has often engaged in climate change regulatory and legislative policy discussions. These policy decisions could have a significant impact on our business, and with respect to the creation of legislation and regulation, details matter. Sometimes the details in proposed laws and rules can make them impractical for our company, the industry and the public - even if the concepts or frameworks appear constructive. Our timeline of engagement in the U.S. Climate Policy process with details of our press releases clearly shows what we could and could not support at each step of the evolving legislation and regulation.

We have participated in the CDP survey, formerly known as the Carbon Disclosure Project, since 2004 and our most recent CDP submission can be found in our 2017 survey response. We remain committed to succeeding in a carbon-constrained world as demonstrated by our recent disclosures on our approach to carbon asset risk, which discusses our carbon strategy and carbon scenario analysis.

Since 2010 we have been a co-sponsor of the MIT Joint Program on the Science and Policy of Global Change along with other major industrial companies and several US government agencies. This program's mission includes quantitative analyses of global climate change risk and its social and environmental consequences, and provides independent assessments of potential responses to global risks.

We are often questioned about our involvement in industry trade associations that advocate on climate change policy. We engage with many trade associations at the national, state and local levels and in most instances our membership and involvement isn't based on a single issue. Through participation in trade associations, we seek to champion solutions that are practical, economical and environmentally responsible, non-partisan and in the best interests of the company. We do not support all positions taken by trade and industry associations on issues and we publicly acknowledge that we take contrary positions from time to time. From our perspective, the general suggestion for companies to distance themselves from industry trade organizations and other stakeholders with diverse viewpoints lessens constructive dialogue and ultimately makes it more challenging to develop effective solutions.

We are committed to working constructively toward effective, fit-for-purpose solutions to address climate change while providing for the nation's vital energy needs.